Originally published (in German) on the Welthungerhilfe website.
One dairy cooperative is growing with funds from the Global Agriculture and Food Security Program (GAFSP).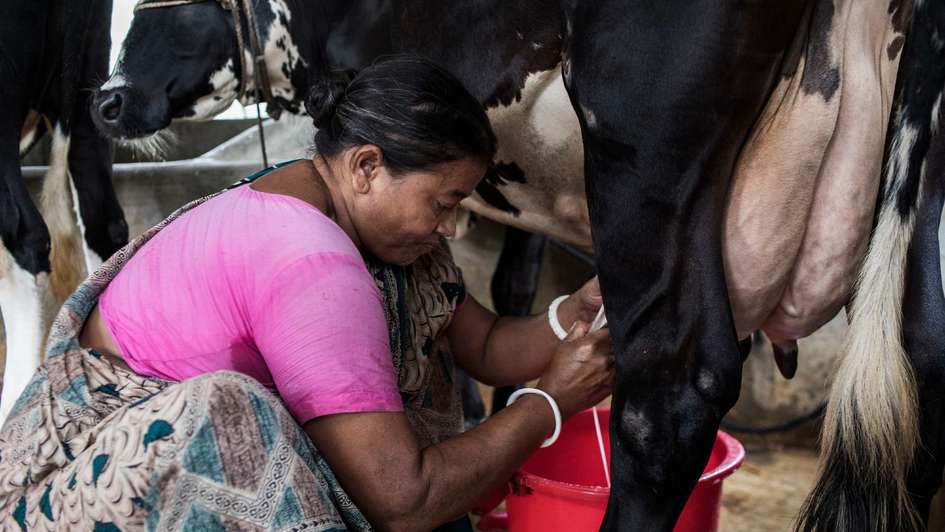 It all started when Renu Bala, a dairy farmer from the village of Panjor Bhanga in northern Bangladesh, went from house-to-house to pitch her idea to create a cooperative. Today, more than 40 women have joined her dairy co-op, and collect more than 200 liters of milk per day, which they sell to local sweet shops and milk processing companies at premium prices – bringing in a profit.
Given that Bangladesh is one of the countries most affected by climate change, with frequent floods that submerge farmland and roads, profit through agriculture has become increasingly hard to come by.
In 2010, the Government of Bangladesh launched the Integrated Agricultural Productivity Project (IAPP), a project funded by GAFSP and supported by the World Bank and the Food and Agriculture Organization of the United Nations (FAO), that worked directly with the community to develop climate-smart infrastructure, build knowledge and skills on farming practices, provide better quality inputs, and link farmers to markets. 
Renu, like many smallholders in the region, has now participated in a series of agricultural development projects including public sector interventions, activities to strengthen farmers' organizations, and support to help develop the private sector. 
New Frisian cows purchased
With the support of FAO, Renu obtained a low-interest bank loan and bought Holstein Friesian cows, which produce a higher milk yield than the local breed. IAPP has led to significant improvements for farmers like lower threats of anthrax and other diseases, an increase in yields, and better connections to markets.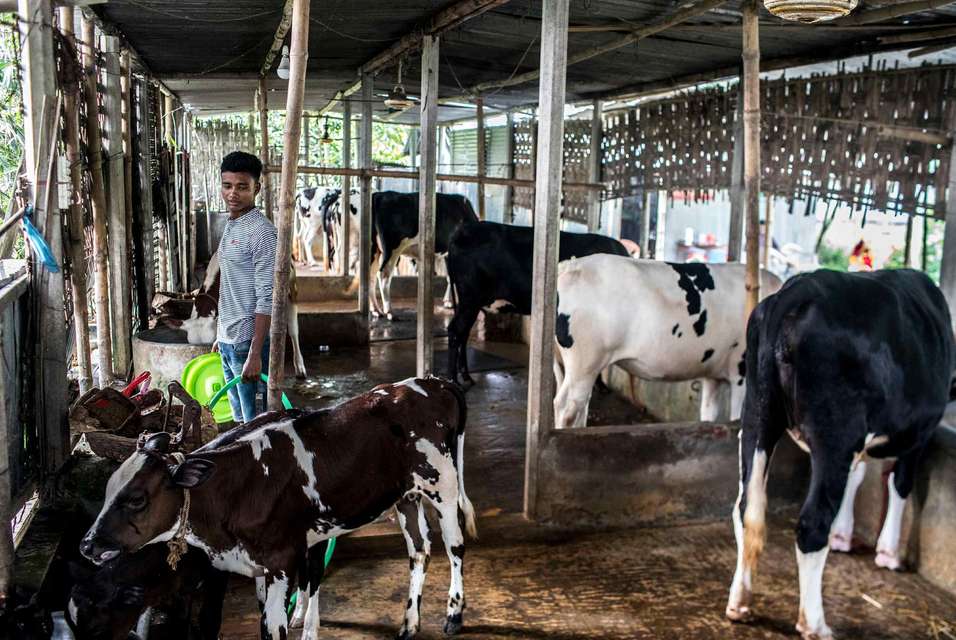 Renu's dairy cooperative continues to grow, largely based on women in the area who have noticed the marked improvements in the lives and social standing of the female members. Since 2014, membership in the dairy cooperative has increased from 14 to 47 female members. 
Starting in 2016, GAFSP funded a new project, supervised by FAO, through the pilot Missing Middle Initiative (MMI) designed to empower farmers' and producers' organizations as key actors in the private sector. It originated from the idea of strengthening agricultural and producer organizations as key economic players. "The IAPP had an incredible impact," says Renu, looking back. "MMI is building on this – the second project was designed according to the needs of our members. It is the answer to the challenges that smallholder producers face."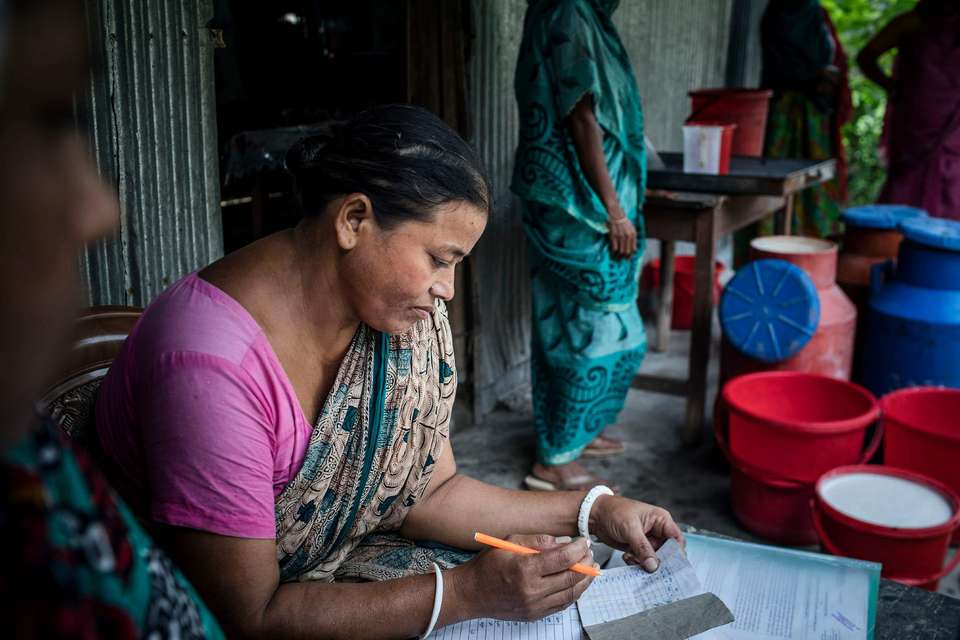 Driven by farmers themselves, the MMI was launched to help bridge the gap between farmers' organizations and the formal private sector – specifically working to strengthen farmers' organizations. "I had no regular income before," says Renu Bala. Both projects have changed her life and that of her cooperative members positively. "Now I have a dairy farm with eight cows, three calves, 10 goats, 75 chickens and 21 ducks. Every day I sell 50 liters of milk. I'm the main breadwinner in my family."
Chair at the decision-making table
Unlike traditional development projects, which usually work with multilateral development organizations under government leadership and which often leave out the farmers and their organizations whom they are ultimately supposed to serve – the MMI aims to provide direct assistance to organized producers, representatives of civil society and small and medium-sized enterprises in the planning and implementation of their ventures. 
Renu has been selected as a member of the project steering committee and the project advisory committee. It was therefore important for Renu to learn about organizational structures, to learn accounting practices, and to understand business risks. Now that the co-op has appropriate accounting measures in place, they have been able to make stronger business choices and link directly into private sector markets. In a recent interview, Renu spoke on the impact IAPP has had on her and her members, "I have helped to train women to build a strong organization though technical understanding and knowledge of finance. It's important to know how to access finance. FAO and IAPP helped to organize financial products from banks."
FAO finances chilling plant
Renu Bala's cooperative is one of 55 farmers' organizations that the MMI is supporting in Bangladesh. Through a FAO rural investment strengthening instrument, her cooperative was one of four in the country to receive $1,500 to install a 700-litre milk refrigeration plant that will ensure that more of their milk makes it safely to the market. "Marketing is one of the biggest challenges, particularly in the summer. This is a remote village and we have no cooling facility," says Renu Bala. Many times, urban processors returned the milk because it was spoilt."Our business facilitator received hands-on training on business planning from MMI and …[together] we prepared a dairy business plan together and submitted it to MMI for funding… We never thought that we would be able to install a milk chilling plant. Now our dreams have come true." 
When asked about the future Renu is optimistic, saying that in the next few years their "cooperative will become self-supporting. It will work as common platform for the development of livelihoods of all members." She expects the new skills which she and her fellow co-op members have learned will help ensure that "all our children are going to school and eating healthy food and all members have healthy and high-yielding cows, which would make our milk business a sustainable enterprise, taking marketing opportunities with processors".

Type
Impact Stories

Date