Insta Products CEO, Dhiren Chandaria, talks about his mission—with GAFSP's help—to save lives.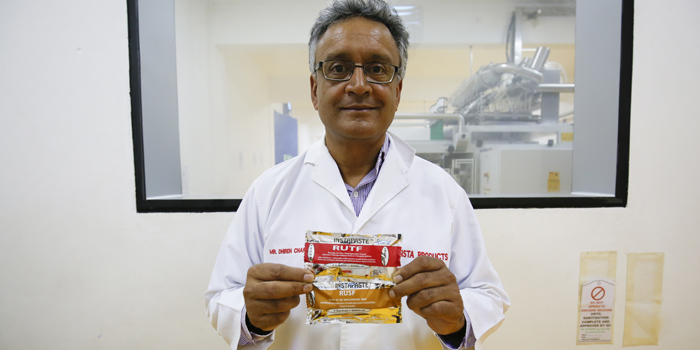 Dhiren Chandaria reaches into his pocket and pulls out his smart phone. On the screen is a photograph of a young child, his frame wizened by acute malnutrition, his gaze glassy-eyed. The photograph is Chandaria's talisman, a constant reminder of the responsibilities he carries as CEO of Insta Products, a company that manufactures a life-saving therapeutic food based on a special mix of proteins, carbohydrates, oils, fats and a host of vitamins and minerals for critical food aid relief.
"This child is representative of all of the people that Insta is trying to help," Chandaria says during a visit to IFC headquarters in Washington, DC. "He has no choice about what goes into his mouth. It is my job to figure out how to provide him with the best level of nutrition, to help save his life."
"It is my job to figure out how to provide him with the best level of nutrition, to help save his life.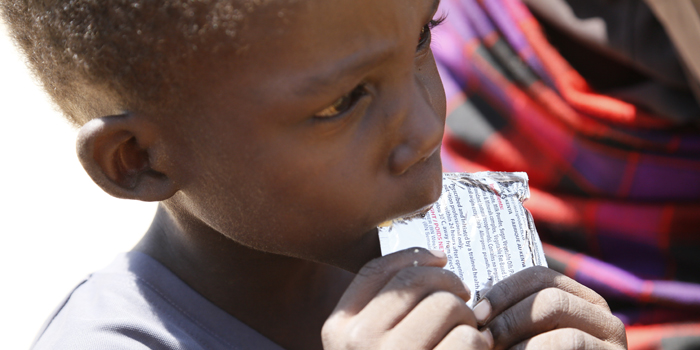 In 2012, Chandaria bought the then-ailing Insta Products with the vision of turning the company around. With no prior food industry experience, Chandaria was at first reluctant to take on the struggling Kenyan manufacturer but changed his mind following a conversation with a representative from UNICEF. At the time, Insta was one of the few companies in Africa with approval to manufacture ready-to-use therapeutic food (RUTF), a critical product for UNICEF's food aid relief efforts. The UNICEF representative made an impassioned plea: "We need Insta to survive," he told Chandaria. "I walked out of that meeting", Chandaria remembers, "and said, 'I'm going to do this."
But resuscitating a company rife with financial and manufacturing woes proved harder than Chandaria first thought. When the company's food product failed a quality test, Chandaria was faced with a crucial decision. The design and set up of the manufacturing facility was lacking in critical process controls and procedures resulting in unacceptable risk. Chandaria believed he could not permit the facility to continue under these circumstances and in July 2014 took the drastic decision to close Insta's factory and rebuild it from scratch. Knowing that hundreds of thousands of vulnerable lives hung in the balance, Chandaria knew that there could be no room for error. "Everything must be one hundred percent perfect in terms of the formulation, food safety, and RUTF product quality." Chandaria said. "You cannot make a mistake. It took us about a year to get things right. Failure was simply not an option."
This commitment to excellence led Chandaria to close Insta's factory a second time in August 2016 to expand the company's capacity and install larger equipment. Now Insta stands out as the largest producer of RUTF in East Africa with purchase orders from global food assistance organizations. Insta has a Long Term Arrangement with UNICEF and fills recurring orders from WFP, USAID, and MSF. Through the relief efforts of these international organizations, Insta's products have helped hundreds of thousands suffering from acute malnutrition and stunting in twelve developing countries around the world.
Insta's impact on the lives of the most vulnerable, is the perfect example of the success and reach of GAFSP and the concept of blended finance. Before receiving a combined loan of $11 million from GAFSP, IFC, and IFU, Chandaria spent most of his time travelling the world looking for financing. "I knew where Insta was going," he says. "We had to fight for the finances because everybody thought that what we were doing was too risky."
"This relationship with GAFSP has been very powerful for us," Chandaria said. "GAFSP has not just enabled Insta to extend its reach, but it has also connected the company—and management—with the rest of the world. The experience has been invaluable."
"This relationship with GAFSP has been very powerful for us"
Chandaria's daughter, Nikita who works for the family business alongside her brother Ishtar, says that Insta's mission to help feed those fleeing from war and famine has had a discernable effect on her father. "He no longer wakes up every day and thinks, 'business'. Instead he asks, 'How can I change children's lives for the better?' We are growing up in a family business that also offers deep values".
Inspired by their father's dedication to improving nutrition around the world, Ishtar, Nikita and their young sister, Tisca, are helping to shape Insta's strategic vision to combat the effects of stunting – the growth failure that results from chronic malnutrition. "This is the big problem that my siblings and I will be tapping into for the next twenty to thirty years," Nikita said.
The Chandaria family have recently developed a nutritious and affordable breakfast spread aimed at providing children in developing countries the nourishing start they deserve every day. Insta has already begun a pilot feeding program at the Enkijape primary school near Nairobi where more than 750 children—many of whom were suffering from malnutrition—are now receiving fortified whole grain porridge provided by Insta every day.
Such interventions at the grassroots level, Chandaria believes, are critical if the world is to meet the Sustainable Development Goals (SDGs). The Chandaria family now hope to replicate the success of Insta and create new manufacturing facilities across Africa and around the world to continue the fight to save lives.
"Time is short," Chandaria says. "The only way that we can do this is through the private sector."

Type
News & Blogs

Date

Focus area