When COVID-19 hit Uganda, some farmers were in a stronger position than others to cope. While restrictive measures to curb the spread of the virus were put in place and remain, these farmers had a digital safety net to fall back on, cushioning the negative impact of the pandemic. 
E-Granary, a mobile platform, delivers economic and financial services to farmers in Rwanda and Uganda. Launched in November 2018, the mobile communication and payment system creates a virtual space for brokering commercial partnerships and contracts between farmers, buyers, and input dealers, while connecting farmers with financial services at low transaction costs. The platform is used by more than 38,000 farmers, almost half of them women.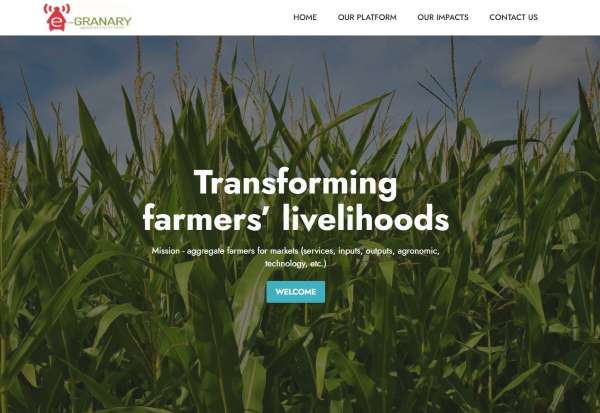 Managed by the Eastern African Farmers' Federation (EAFF), e-Granary works by securing supply contracts from large buyers, then cascading them to producer co-operatives and community-based organizations. The security of the contract enables producer organizations to get affordable credit, insurance, and certified inputs, protecting them against production risks like drought or pests and disease while leveraging their collective strength. 
Harnessing digital tools to navigate crisis 
E-granary partners across the value chain, linking seed delivery and production organizations, storage facilities, transporters, and financial institutions like banks. "Farmers' organizations are often the weakest link in the value chain," explained Steve Muchiri, e-Granary Lead Software Engineer at EAFF. "With no power in the market, no organization, and no partnerships upstream along the value chain to connect with, they often operate in an information black-out. So we brought together businesses involved in growing crops across six value-chains – maize, pulses, rice, livestock, potatoes, cassava – to strengthen their position." 
EAFF applied to the Missing Middle Initiative, a pilot program supporting farmer organizations more directly, to develop a mobile platform to better deliver financial and information services to farmers. Through the Global Agriculture and Food Security Program (GAFSP), EAFF was awarded US$2.61 million to work with the International Fund for Agricultural Development (IFAD) to create the digital tool, delivering information about everything from land preparation, crop planting, and harvesting to weather and loans to farmers. So far, more than 6,000 farmers, 33% of them female and 43% youth, have been trained in good agricultural practices, financial literacy, insurance, and business skills.
When COVID-19 hit Uganda, the e-Granary digital platform had already linked farmers with markets. They had contractual arrangements in place for inputs, seed or fertilizer. Trust had been established, and relationships formed along the network. "We were able to communicate with farmers quickly, and dispatch letters to enable them to move despite COVID-19 induced movement restrictions, to carry on their business,"Muchiri said. 
Banking on better partnerships 
Crucially, the e-Granary platform also linked banks with farmer organizations, which had already obtained loans to purchase inputs. "Previously, before our platform, it was not possible for farmers to interact with banks," said Muchiri. Smallholder farmers are seen as high-risk profile clients, dependent on climate, and without collateral. Financial institutions rarely lend to farmers, with less than 11% of bank lending going into agriculture, mostly consumed by large-scale farmers. 
By gathering digital data on farmers, e-Granary can assure micro-lending institutions or banks that certain farmers are trustworthy. The platform has profiled more than 50,000 farmers in Uganda and Rwanda, building credit history and data about each farmer to de-risk their lending probability. 
Ssansa Francis, Agriculture Lending Manager at Equity Bank in Kampala, Uganda, noted: "We realized that most smallholder farmers were youth and women, and without collateral, these groups were unlikely to get funding. So, we went back to the drawing board, and created new products tailored to women or youth who do not have access to land ownership – a major form of collateral. We found a de-risking partner – the Master Card Foundation to walk the journey with – and worked with them to create a loan that does not require collateral, based on digital data about farmers, and what they buy and sell. This has allowed us to reach more than 5,000 customers, extending over 600 loans." 
As of December 2020, in Uganda, more than 2,600 smallholder farmers accessed improved and certified agro-inputs through pre-financing arrangements worth US$281,486. In the future, e-Granary plans to involve more farmers and improve storage and infrastructure at 18 aggregation centers to mitigate post-harvest losses. To mitigate COVID-19 impacts on farmers, the project plans to offer 20% part-purchase of inputs and transportation to aggregation centers already registered in the e-Granary system and strengthen the capacity of the regional and national call centers. 
We have not solved the problem yet, but our platform is working. 
"We have not solved the problem yet, but our platform is working," reflects Muchiri. "We have learned many lessons along the way. We know we need to invest more in de-risking farming, building storage and warehousing to manage post-harvest loss. And, in agro-processing and industry, extending the shelf-life of products but still making them affordable in the market. But critically, preparation is key. Long-term funding is the only sure way to assist agriculture, helping build sustainable platforms like this, to prepare farmers so that they can better mitigate a crisis like this pandemic in the future."
 

Type
Impact Stories

Date