Original article published on devex.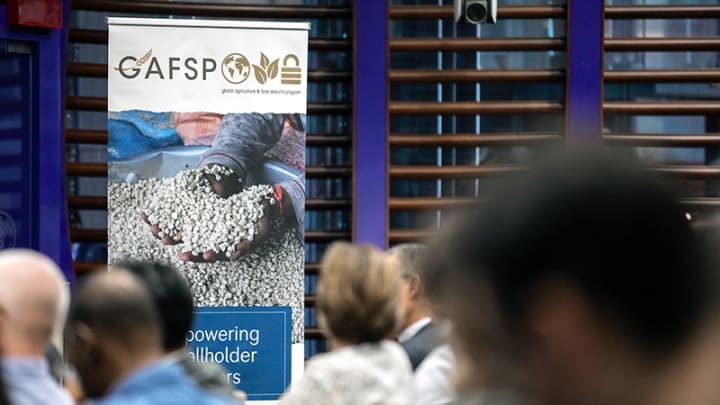 BRUSSELS — Ten years after G-20 leaders created the Global Agriculture and Food Security Program to tackle hunger and malnutrition, the fund will hold its first replenishment event next June in Berlin, seeking $1.5 billion.
Channeled through actors including the Food and Agriculture Organization and World Bank, GAFSP says the money would support sustainable food systems in at least 30 countries, provide a 20% increase in income to 10 million farmers, and create 1.1 million jobs in the 2020-2025 period. 
After its launch in 2010, GAFSP received money from donors on an ad hoc basis, holding calls for proposals from governments on the World Bank's IDA-only list of low-income countries, whenever there was sufficient funding.
"We are not an implementing agency," Natasha Hayward, GAFSP program head, said at an event Tuesday at the European Parliament. "GAFSP does not have a presence on the ground. We do not deliver projects ourselves. We are a pooled pot of donor financing that sits above the existing multilateral development architecture and seeks to channel that additional financing in a very targeted way through those multilateral players."
The U.S. was initially the fund's largest contributor, though under the Trump administration in 2017 it called for a managed wind-down of the initiative. According to public minutes, at the same meeting, other donors cited the need "for an improved investment case for GAFSP that would more closely link the program with their own national and policy priorities."
In early 2018, the steering committee decided to extend GAFSP until 2030 to align with the Sustainable Development Goals. According to the minutes, the Bill & Melinda Gates Foundation, for instance, "indicated a willingness to go back to their leadership for funds in 2019 if there was a significant replenishment moment with contributions by several donors and clearer articulation of GAFSP's leverage proposition."
The fund released its investment case, last month, pointing out that "progress on Sustainable Development Goal 2 (SDG2) — to end hunger, achieve food security and improved nutrition and promote sustainable agriculture — is actually going in reverse."
"After decades of decline, global hunger has increased for the third year in a row. There are now over 820 million chronically hungry people in the world," the document stated, citing FAO figures. "At the same time, the diets of almost half of the world's population do not meet even the most basic nutritional needs."
The answer, according to Stefan Schmitz, chair of the GAFSP steering committee, is "we need more GAFSP." Schmitz, who is also deputy director-general of the German development ministry, BMZ, told Devex that the rise in global hunger was due to "growing fragility, population growth and the threat to natural resources linked to climate change" in Africa. Yet, despite the "constant uphill battle," he said, "we have the solution here. We need more of the solution."
In future, Schmitz said the focus will be on better linking assistance to the public and private sector. "It will be possible to have one integrated project in country X where right from the beginning during the concept and design of the project, the support to companies along the value chain, for example, will go hand in hand with the public sector [support], through technical assistance, to investment in infrastructure," he said.
Since its inception, GAFSP has channeled $1.5 billion to fight hunger, malnutrition, and poverty, benefitting 10.4 million smallholder farmers and their families, it says. And it has won praise from civil society for its role, albeit as a non-voting member, on the GAFSP steering committee. In practice, the committee strives for consensus-based decision-making and has resorted to a formal vote just once in its history.
Ibrahima Coulibaly, president of the Network of Farmers' and Agricultural Producers' Organisations of West Africa, told Devex that GAFSP's approach, requiring governments applying for funding to have consulted farmers themselves was "extraordinary" and drove governments to be more collaborative.
But the program is now preparing for next year's conference without the support of what was once its main backer, the U.S., which has not made any contributions for the past three years. 
"On a working level [the U.S.] remain(s) interested, they remain as a member of the steering committee I'm currently chairing, and I'm very optimistic that in one or two years time the U.S. could come back again with a strong financial contribution," Schmitz said. "It depends on domestic politics."
Schmitz said Germany, the United Kingdom, and Netherlands were "very committed" while he had received "positive signals" from Norway, Sweden, France, and European Commission. Even if not all of those donors come through, however, Schmitz said he is "optimistic that we will have a critical mass of money to start into that second phase of GAFSP."
The lack of awareness about GAFSP was another "uphill battle", Schmitz said, contrasting it with well-known sources of funding vehicles in the health sector, such as GAVI The Vaccine Alliance and the Global Fund to fight AIDS, Tuberculosis and Malaria. At the European Parliament event on Tuesday evening, GAFSP representatives — on an awareness-raising mission to meet the EU institutions, civil society, and partners — appeared to outnumber the audience of media and parliament officials.
"When we start dialogues with new partners sometimes we start from scratch," Schmitz told Devex earlier in the day. "They simply don't know about [us] or they have a misconception about GAFSP."

Type
News

Date

Focus area
Access to Finance
Climate Change
Fragility
Gender
Inclusive Business
Nutrition