Women play a central role in agriculture and food systems, yet they remain more at risk of being food insecure than men. Compounding crises – climate change, a global pandemic, political instability, and conflict – have further exacerbated this inequality. At this moment in time, we need to strengthen women's resilience to crises, especially as another food security crisis is unfolding. 
During this Twitter Chat, GAFSP and our CSO partners – ActionAid USA, Asian Farmers Association for Sustainable Rural Development (AFA), and the Network of Farmers' and Producers' Organisations in West Africa (ROPPA) – will facilitate a discussion around: 
The central yet unrecognized role of women smallholder farmers.
Moving beyond only listening to women's concerns and needs, to building on their knowledge, resilience, and practices.
How multi-stakeholder collaboration can promote and protect women's rights in the context of food security and nutrition. 
Examples of women-led initiatives in agriculture and food systems. 
The multiplier effect of women's empowerment in creating and maintaining a sustainable future for all. 
How food systems transformation cannot happen without gender equality; we need action now.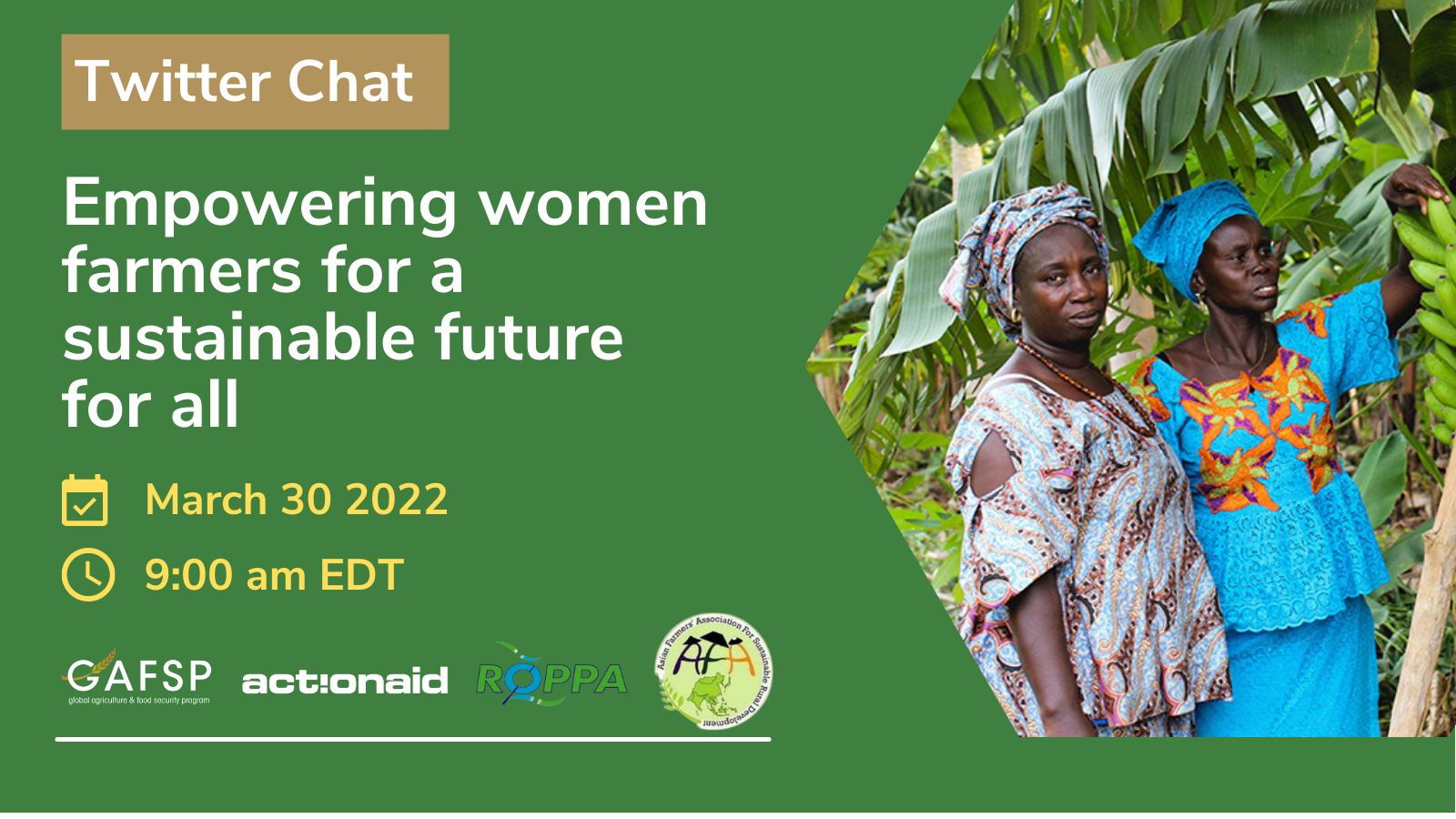 Date & Time: Wednesday, March 30 at 9am (EST)
Format: 30-minute Twitter Chat with five questions published from @GAFSPfund, @ActionAidUSA, and @AsianFarmers Twitter accounts.
Hashtags: Please include the hashtag #WomenEndingHunger in every tweet. Please also add #IWD2022 and #InvestFarmtoFork if space allows.
Questions:
Women and girls are often the last to eat at mealtime, or not at all. Why is that so, and how can we address food insecurity disproportionately affecting women? 
Women are often unsung heroes in their communities. In your context and experience, what are some of the most significant roadblocks for women in agriculture and food systems? 
Farmers are particularly vulnerable to climate change and other crises, but the impact on women can be much greater. What are some ways to build women's resilience to crises? 
Women's empowerment is multifaceted and complex. What does empowerment look like in your country/context, and can you highlight an example that tackles gender inequality? 
What does a world with gender-sensitive farming look like, and how can this be maintained in the long term? 

Type
Events

Date