Good food starts with farmers: the men and women on the frontlines of our food systems and climate crisis, who are often the furthest behind but integral to achieving good food for all. Only with strong partnerships and multi-stakeholder collaboration are smallholder farmers able to produce good food for people and the planet.
Hosted by GAFSP, SDG2 Advocacy Hub, and UNFSS, this Twitter Chat highlights the vital role of smallholder farmers in delivering sustainable and nutritious food for all by providing a platform for stakeholders to discuss ways of working to ensure that food systems drive progress on the SDGs.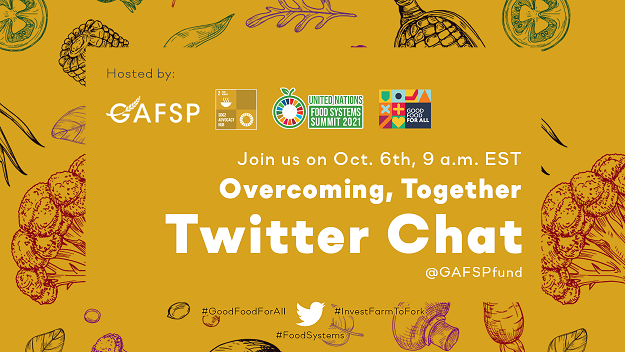 Time & date: Tuesday 6 October, 9am EST/ 2pm BST/ 3pm CET 
Focus: The vital role of smallholder farmers in delivering sustainable and nutritious food for all.
Format: 45 minute twitter chat with six questions published from @GAFSPfund twitter account. Co-hosted by UN Food Systems Summit @unfoodsystems, SDG2 Advocacy Hub @SDG2AdvocacyHub and GAFSP. 
Hashtags: Please include the hashtag #InvestFarmtoFork in every tweet. Please also add #GoodFood4All and #foodsystems if space allows.
Questions:
Where does the transformation of our food systems begin – at the farm, with decision-makers, led by business leaders or by consumers? Where does it begin for you?
What does a food systems transformation look like? Name the top three aspects of your local food systems that need to change!
We are facing many global challenges, but the time is also ripe for all of us to help build resilient, sustainable and inclusive food systems. Which unconventional actors do you think can and should add to the debate and why? 
The world is facing unprecedented challenges. How can we harness the power of partnerships to spur change and to ensure that food systems are living up to the SDGs?
COVID-19 has brought significant shocks to food systems globally.  What are two actions that can strengthen partnerships for future crises?
What are some examples of impactful, effective partnerships? Share your success story.

Type
Events

Date

Focus area
Access to Finance
Jobs and Income
Climate Change
Fragility
Gender
Inclusive Business
Nutrition