The Gambia River snakes its way along the West African coast, from Guinea through Senegal and The Gambia to the Atlantic Ocean. On its journey, it passes through Tambacounda, a region in Eastern Senegal dependent on cash crops including cotton, peanuts, and bananas. Since a spell of drought in the 1980s, many people migrated south of Tambacounda, taking advantage of the Gambia River's fertile banks, providing much-needed water and irrigation to surrounding farms.
Eventually, villages formed, and groups including the Association des Producteurs de la Vallée fleuve de la Gambie (APROVAG), and the Yakaar Niani Wulli (YNW) federation – cultivating peanuts, fonio, cotton and other dry cereals – grew.
Now, APROVAG and YNW members rely on cultivating bananas, cotton, peanuts, and food crops for ther livelihoods. Since bananas are in great demand in Senegal's cities, many farmers struggle to make ends meet when they cannot be harvested. There is a name for the season during which bananas can't be harvested: the 'soudure'. During these times, some households may not be able to afford food, or consume less due to lack of resources.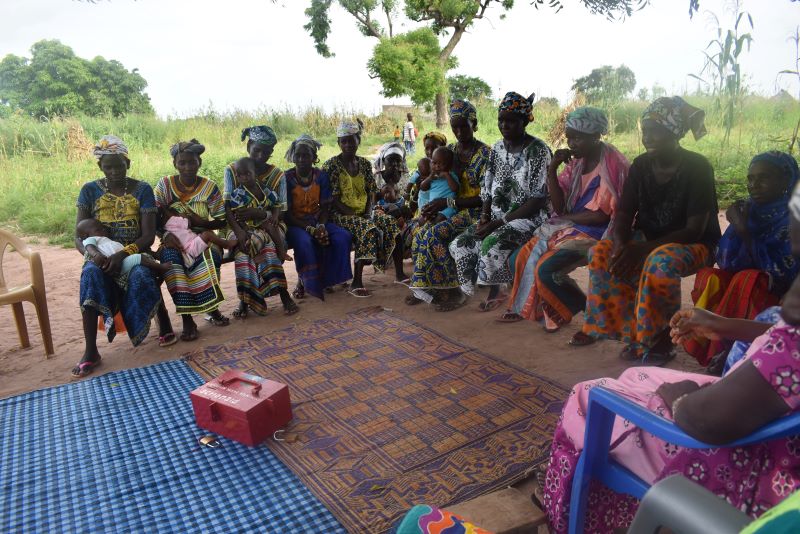 Bananas to ease food insecurity 
Bananas require a lot of water to grow, so drought periods can stress the plants seriously unless irrigation is readily available. Smallholder farmers regularly face drought, lack of water during dry periods of the year, and a lack of disease-free planting materials to harvest healthy banana crops. As a result, the Global Agriculture and Food Security Program (GAFSP)'s Missing Middle Initiative (MMI) pilot project supports two producer organizations, APROVAG and YNW, to boost their agricultural production, incomes, and livelihoods. More than 7,000 banana vitro-plants have been distributed among farmers in the region, and motor pumps have been installed to make water available in the long-term. 
In addition, women have been supported to become officially appointed to leadership roles, with training to strengthen their networks. The farmers have received training in entrepreneurship, administrative management, and financial management, enhancing their ability to increase their profit and sales. They have also received training in agroecological practices around banana-growing systems to make their market gardens more sustainable. Due to technical training in water management, support in motorized pumps and in healthy productive plant material, the volume of banana sales has grown by 44%. 
Building for the long-term 
To date, 58% of APROVAG producers and 15% of YNW Federation producers have seen their incomes improve due, in part, to support from the project. Food and Agriculture Organization (FAO)'s Project Coordinator Mamadou Niokane, noted: "A major challenge with banana production is how to access the equipment for water since pumping water from the Gambia River is very costly. The other challenge is in how to access banana plants that yield higher quantities and are more productive than local varieties; and training in the technical production [practices] to improve the quantity and quality of the crop, because without the necessary quality, farmers will not achieve any sales or get a good price for their produce." 
The $2.48 million MMI pilot supported the producer organizations to buy heavy machinery such as water pumps for banana production and the cultivation of peanuts. These long-term infrastructure investments were provided together with capacity building in how to manage funds. There has also been an improvement in women's financial capacities through the installation of six Village Savings and Credit Associations. "We permanently support the producer organizations to be responsible for themselves, and how to improve their governance model to improve their project management in the future and ensure that their activities are sustainable," reflected Mamadou.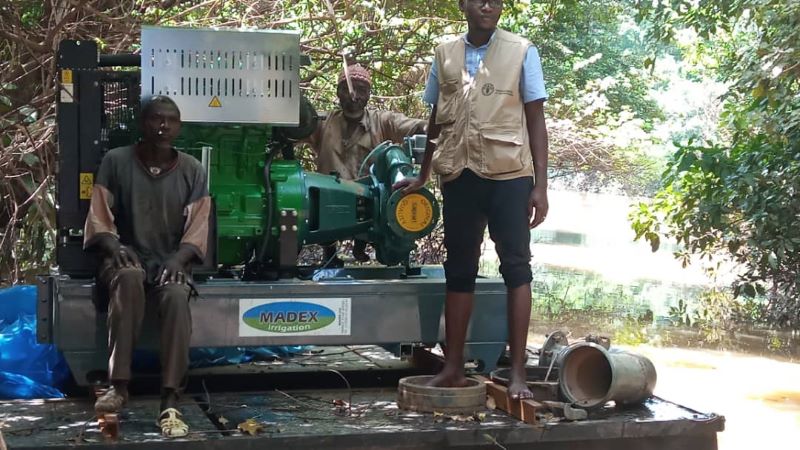 FAO National Monitoring, Evaluation, and Knowledge Management Officer Diagne Bassirou, added: "Beyond the initial scope of the project, we have also been supporting farmer organizations, and especially women and youth, to collect and use data. Particularly during the pandemic, we have built the capacity of farmer organizations to establish a digital footprint, helping farmers to collect quality data to better coordinate and monitor their own activities, produce, and finances for long-term sustainability." 
Knowledge is power 
"We are the only project to use these tools in direct participation with producer organizations to evaluate how the project is impacting farmers," Diagne said. "We train farmer organization staff how to use their smartphones to collect and track data which can be transferred to a laptop as quantitative data for marketing, to help determine harvests and sales. It's very interesting for organizations if they can collect their own data and understand different solutions and have the financial or agricultural knowledge to facilitate and collaborate with agencies, to implement solutions to their own challenges, building their long-term resilience," he said. 
The long-term impact is to improve governance in farmer organizations for future capacity building, especially among women and young people.
"The long-term impact is to improve governance in farmer organizations for future capacity building, especially among women and young people, so they can manage their own data as a farmer organization." Going forward, challenges remain in developing linkages with the private sector so that farmers and producer organizations like APROVAG and YNW can guarantee the sale of their bananas and peanuts. Currently, the organizations are being supported with business model development training to improve their relationships with private sector companies in Senegal. 

Type
Impact Stories

Date